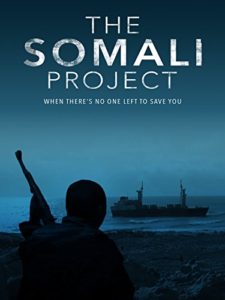 "The film, by two former 60 Minutes producers, Adam Ciralsky and Shawn Efran, documents in excruciating detail how hard the job is." – Daily Beast
"The [Somali] Project is a visionary tale that will have you talking for days." – AwardsCircuit.com
Piracy off the coast of Somalia has been a threat to international shipping since the second phase of the Somali Civil War, around 2000, when foreign ships exploited the absence of an effective national coast guard by invading the fishing grounds and also dumping illegal waste that would further diminish the local catch.
Fishing communities responded by forming armed groups to deter the invaders by hijacking commercial vessels. But this grew into a lucrative trade, with large ransom payments, and financial gain (piracy) was clearly the main motive.
International organisations began to express concern over the new piracy on account of its high cost to global trade and the incentive to profiteer by insurance companies and others. The Somali government has been active in policing the area, though some believe that it wants to collaborate with the pirates as a bulwark against Islamist insurgents. An anti-piracy coalition known as Combined Task Force 150 established a Maritime Security Patrol Area in the Gulf of Aden, aided by India and Russia. By 2010, these patrols were paying off, with a steady drop in the number of incidents. As of November 2017, there were no hostages or major vessels remaining in pirate captivity.
THE SOMALI PROJECT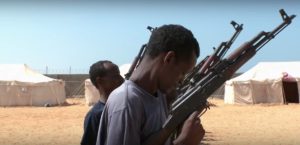 For eighteen months, an Emmy and Peabody Award winning film team risked life and limb to document one of the most audacious (and troubled) military missions ever imagined: a ground-up anti-piracy force in Somalia, the most lawless nation on Earth. From hijacked oil tankers to pirate prisons, a murder, and the attempted killing of one of the cameramen, almost everything is captured on tape.
The Somali Project begins with pirates capturing the merchant vessel Royal Grace and holding its crew for ransom. As the Grace's hostages, and those from dozens of other ships, languish under unspeakable conditions, a Persian Gulf state quietly bankrolls a paramilitary force to raid pirate havens and free the captives. The controversial force faces mutiny and murder and runs afoul of the U.N. before eventually coming face-to-face with the elusive pirates in an extraordinary battle captured on film.
The Somali Project tells the breathtaking and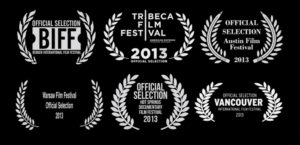 action-packed story of a private militia formed to fight Somali pirates who prey on some of the world's busiest shipping lanes.
Since the mid-2000s, heavily armed pirates have hijacked hundreds of vessels and taken thousands of hostages for ransom. Private mercenaries formed the Puntland Maritime Police Force (PMPF) to fight piracy and establish stability in the area. Part documentary and part real-life thriller, the film takes an up-close look at the undertakings of the PMPF, exploring its intense and dangerous pursuit of Somali pirates. The result is a mesmerizing narrative that delves deep into the political, cultural, and economic complexities of international peacekeeping missions.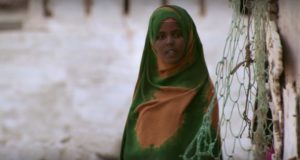 A former CIA attorney turned journalist and director of THE SOMALI PROJECT, Adam Ciralsky has won numerous awards for his work, including three Emmys and a Peabody Award for Significant and Meritorious Achievement in Broadcasting and Cable. The film World Premiered at the Tribeca Film Festival 2013.
83 minutes on 1 disc / color / 2013 / English / A Film by Shawn Efran and Adam Ciralsky
HOW TO ORDER:
Public Performance and Digital Site Licenses are available through Soundview Media Partners. To inquire or to place an order, write to info@soundviewmediapartners.com or simply choose from the options below:
For group screening prices, please inquire.
WATCH THE TRAILER