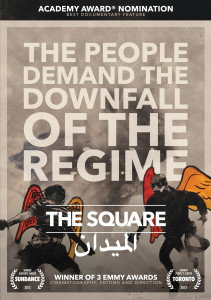 The Oscar nominated documentary depicts the ongoing Egyptian revolution and immerses the viewer in the intense emotional drama of young people on the streets of Cairo claiming their rights and creating a society of conscience. As two governments topple, the personal stories of freedom fighters unfold in an inspiring tribute to the power of citizenship.
The Square is a 2013 Egyptian-American documentary film by Jehane Noujaim which depicts the ongoing Egyptian Revolution of 2011 from its roots in Tahrir Square.
The film was nominated for the Academy Award for Best Documentary Feature at the 86th Academy Awards. It also won three Emmy Awards at the 66th Primetime Creative Arts Emmy Awards, out of four for which it was nominated.
The Square premiered on January 17, 2013 at the 2013 Sundance Film Festival, where it won the Audience Award for World Cinema in the documentary category. Due to the ongoing nature of the Egyptian Revolution, Noujaim updated the ending of the film over the summer of 2013. The film was subsequently also named winner of the People's Choice Award in the documentary category at the 2013 Toronto International Film Festival. The production is done in the native languages of its cast, and is presented with English subtitles.
"A compelling inside look at the cascading series of revolutions and counterrevolutions that have shaken Egypt since the beginning of 2011." – Chicago Tribune
"[The Square] confirms that only rarely do revolutions 'jump their tracks' so that a new script can be written" – Bright Lights Film Journal
"Vital election-year viewing, this is HIGHLY RECOMMENDED" – Video Librarian
2013 / 109 minutes on 1 disc + 90 minutes of extensive bonus material / Color / A film by Jehane Noujaim
HOW TO ORDER:
Public Performance and Digital Site Licenses are available exclusively through Soundview Media Partners. To inquire or to place an order, write to info@soundviewmediapartners.com or select from the License Options listed below:
For group screening prices, please inquire.
In-home/personal use copies are available on Amazon: http://amzn.to/1QG3Y8W
WATCH THE TRAILER
Perfect for Middle East Studies