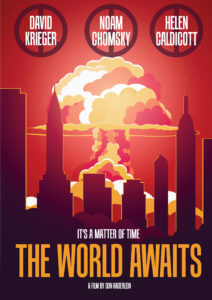 THE WORLD AWAITS
It's a matter of time…
A Don Haderlein Film
A documentary film on the elimination of nuclear weapons.
Noted philosopher Noam Chomsky, world renowned physician, author and activist Helen Caldicott, MD, and founder of the Nuclear Age Peace Foundation David Krieger come together through interwoven interviews to create a narrative that addresses one of the most urgent needs of our planet:
The modern dangers of nuclear weapons and the threat of nuclear terrorism in the world today.
"The World Awaits" is a documentary feature depicting the effects of nuclear weapons and the urgent need for the nuclear states to reduce and eventually eliminate these highly destructive weapons of mass destruction. The narrative presents the dangers of these weapons, including recent close calls and almost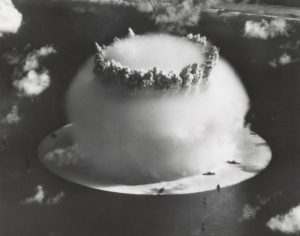 attacks we've had had over the 70 years since the first use of nuclear weapons in August of 1945.
The film also explores the current threat of nuclear terrorism and the dangers of nuclear power plants in our world today. The three core interviews are interwoven with archival footage of presidents Barack Obama, John Kennedy, Dwight Eisenhower and Harry Truman.
"The World Awaits" makes a strong argument for never using these weapons again and how these outdated arms and power sources should be abolished in the best interests of the survival of humanity and our planet.
"Haderlein does address some historical mistakes that nearly launched Armageddon. Overall, this well-intentioned and timely documentary is a strong optional purchase." – Video Librarian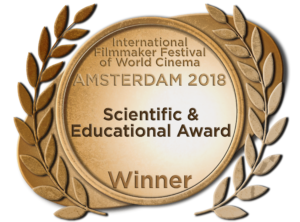 WINNER: BEST EDUCATIONAL AND SCIENTIFIC FILM AWARD and nominated for Best Picture at the International Filmmaker Festival of World Cinema – Amsterdam 2018.
2016 / 16×9 / Color / English / 98 minutes / A film by Don Haderlein
HOW TO ORDER: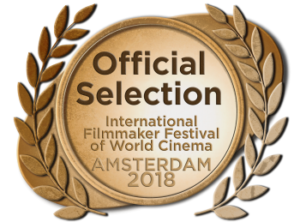 Public Performance and Digital Site Licenses are available through Soundview Media Partners. To inquire or to place an order, write to info@soundviewmediapartners.com or simply choose from the options below:
For group screening prices, please inquire.
In-home/personal use copies of the DVD are available on Amazon: http://amzn.to/2uIVfjx. Prefer to stream or download? https://amzn.to/2A8iABu
WATCH THE TRAILER