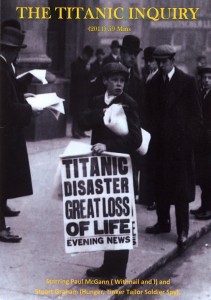 From the BBC comes this riveting and dramatic recreation of one of the little known mysteries of the Titanic… the story of the British Inquiry into the sinking of RMS Titanic and whether the SS Californian was in near enough proximity to the vessel to rescue some, if not all, of the 1,500 lives lost.
After the infamous sinking of the RMS Titanic, a formal British Board of Trade inquiry about the disaster is called. During the proceedings, the serious allegation that another ship, the Californian, saw the sinking ship and its distress signals, but failed to render assistance is a topic of particular interest.
While Captain Stanley Lord of the Californian pressures his officers to keep to his cover story, his immediate subordinates find themselves not only under official scrutiny, but quarreling about themselves about the events of that night. As a result, they are all confronted with a moral dilemma about where their true duty really lies.
Starring: Stuart Graham, Terence Harvey, Owen McDonnell, Paul McGann, Iain Robertson
"The Titanic inquiry in Britain was branded a 'whitewash' because it exonerated most of those involved. Only three passengers were interviewed, and they were all from first class" – Titanic Expert Nic Compton
"A secret archive containing the names of two million Freemasons has been made public for the first time on the genealogy site Ancestry which reveals extensive Masonic involvement in the controversial British investigation into the catastrophe." – The Telegraph
59 minutes on 1 disc
HOW TO ORDER:
Public Performance and Digital Site Licenses are available through Soundview Media Partners. To inquire or to place an order, write to info@soundviewmediapartners.com or select from the License Options below:
For group screening prices, please inquire.
In-home/personal use copies are available on Amazon: http://amzn.to/1rdw4m5
Watch the trailer