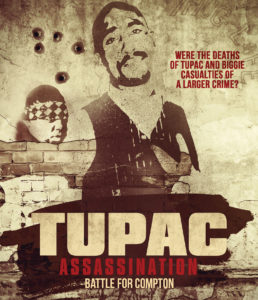 Were the deaths of Tupac and Biggie casualties of a larger crime? Two of the most infamous murder cases in music history are finally explained 20 years after they happened.
The unsolved murders of Tupac Shakur and Christopher "Biggie Smalls" Wallace still stir the public's imagination after 20 years. Yet law enforcement has been at a standstill to produce results. The producers of "American Federale" and the first two "Assassination" films, finally unravel the tangled cases and expose not only who may have done it, but also the conspiracy underneath why these cases have never seen justice.
"Battle For Compton" is the story of "The Machine"; a group of high powered individuals with a very dark secret they killed to keep, and have spent the last 20 years hiding- hoping that one day it will all go away.
This 2017 release is filled with new federal and local government documents, as well as interviews with formerly involved Federal and Local Prosecutors and LAPD Detectives, as well as new witness interviews and unseen Shakur footage, "Battle for Compton" explains how the untimely deaths of Shakur and Wallace were ultimately part of the destruction left in the wake of The Machine and its participants.
This is the story that over a dozen more murders are related to; the story people at the top levels of the justice system do not want you to hear.
Features Tupac Shakur, Biggie Smalls, Suge Knight.
"Recommended" – Bluray.com 
DVD Bonus: Memorial to Fallen Heroes Russell Poole and Frank Alexander
138 minutes on 1 disc / Directed by Richard Bond / Production: 2016
HOW TO ORDER:
Public Performance and Digital Site Licenses are available through Soundview Media Partners. To inquire or to place an order, write to info@soundviewmediapartners.com or simply choose from the options below:
For group screening prices, please inquire.
In-home/personal use copies are available on Amazon: http://amzn.to/2lvIEf4
Watch the teaser