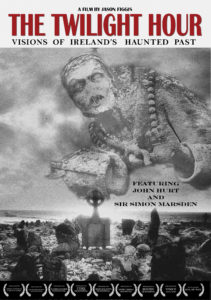 An acclaimed photographer finds fear as he investigates ghost stories in the darkest corners of the Emerald Island.
Since the dawn of history, people have believed in the existence of some form of ghosts. THE TWILIGHT HOUR is an unsettling encounter with the Celtic ruins, foreboding estates and restless spirits that haunt the landscape of Ireland.
This innovative film – nominated for 2 Irish Film and TV Academy Awards – follows the late Sir Simon Marsden, acclaimed photographer of the fantastic and supernatural, into the darkest corners of Ireland, many uninhabited by living souls. He visits such notorious properties as Castle Leslie, where Sir John Leslie shares ancestral accounts of hauntings, as well as his own personal encounters with ghosts.
Marsden wanders the creaking corridors of a long-forsaken mansion known as the most relentlessly haunted house in Ireland, and visits such weird and desolate spots as The Hill of the Witch in County Meath.
The chilling result has been described as "an atmospheric tour de force".

THE TWILIGHT HOUR reveals the stories behind the ill-fated castles and abandoned mausoleums, the mysterious ruins and standing stones that have stood vigil through the ages across the Irish countryside. The film gives voice to the restless souls whose presence is both legendary and documented: the reckless child; the victim of a husband's jealous rage; the family of violent, butchering men; the simple housemaid who was terrified to death, and now returns to terrify those still living.
Marsden shares both his incredible store of paranormal folklore and his own innermost fears, while acclaimed actor John Hurt adds to the macabre atmosphere with readings from Edgar Allan Poe.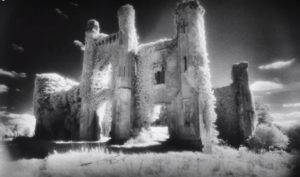 THE TWILIGHT HOUR powerfully argues that unseen spirits reside in the architecture of the past. It's a guided tour through ominous places that generations have felt to be haunted. This glimpse into a profoundly disturbing nether world reveals an Ireland where the line between real and unreal is as indefinable as that between darkness and light. This is a truly haunting film.
Major festival play included being nominated for the Irish Film and Television Award for Best Sound and Editing as well as numerous Official Selection appearances including:
Boston Film Festival
Austin Film Society
Irish Film Institute, Weekend of Horrors
Minneapolis Film Festival
Cork Film Festival
Venice GPO
Metro Cinema Arts Festival
The DVD includes a bonus 1 hour film entitled THE WAKE.
80 minutes on 1 disc / 2003 / Produced by Jason Figgis, Sir Simon Marsden / Directed by Jason Figgis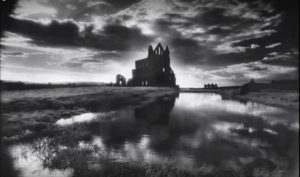 HOW TO ORDER:
Public Performance and Digital Site Licenses are available through Soundview Media Partners. To inquire or to place an order, write to info@soundviewmediapartners.com or simply choose from the options below:
For group screening prices, please inquire.
In-home/personal use copies are available on Amazon: https://amzn.to/2kdoypQ
WATCH THE TRAILER