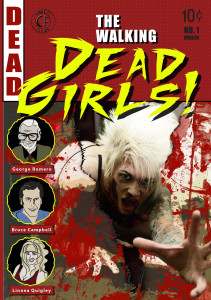 An intriguing rarity for those seeking to study and understand a sub-genre of horror filmmaking, The Walking Dead Girls! is a behind the scenes look into zombie culture in the United States and the obsession with sexy female zombies. What is it about zombie bimbos, or "zimbies", that are starting to gain the world's interest? Why are zombies now in mainstream culture and seen in advertising from JCPenney to Sears?
With interviews with zombie master maker George Romero, cult filmmaker Lloyd Kaufman, scream queen Linnea Quigley and cult movie star Bruce Campbell.
Includes a rare look into the making of a zombie pinup calendar and behind the scenes of "Stripperland", The Walking Dead Girls! is a look into the zombie phenomenon created by Romero that is 40 years in the making.
"It's not great cinema, but it does what it wants and for the most part hits the mark." – DVD Talk
"More informative than titillating" – Video Vault
90 minutes on 1 disc / 2011
HOW TO ORDER:
Public Performance and Digital Site Licenses are available through Soundview Media Partners. To inquire or to place an order, write to info@soundviewmediapartners.com or simply choose from the options below:
For group screening prices, please inquire.
In-home/personal use copies are available on Amazon: http://amzn.to/2eDjN3s
Watch the trailer