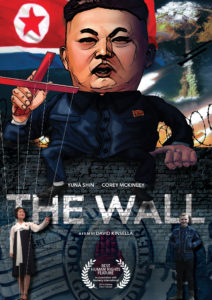 Filmmaker David Kinsella thought he was going to North Korea to make a documentary.
The North Korean regime thought that he would let them dictate the terms of his film.
Both were wrong!
The result is a hybrid documentary / feature narrative that exposes the North Korean regime and its oppression of human rights through the voice of a young female poet.
"Mixing gritty naturalism with hallucinatory hyperrealism, The Wall features a bold mix of styles, imaginatively and powerfully conveying its messages about tolerance and the dangers of ideology taken to a brutal extreme. HIGHLY RECOMMENDED" – Video Librarian (3.5 stars)
With the permission of the North Korean government, Director David Kinsella planned to make a documentary about country, but the North Korean government brought in over 1000 extras to make Kinsella produce what THEY wanted: PROPAGANDA.
Kinsella had to change his strategy, under the pressure of the North Korean Sensor Department and thus filmed The Wall in a way that animation could be painted onto the images and used to tell the real story in post-production when he returned to Norway.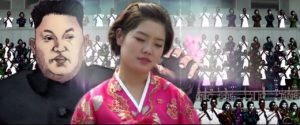 Understanding that in North Korea "All foreigners are spies and evil." something Kinsella had been taught as a boy growing up in Northern Ireland, he also draws comparisons with his own childhood in Belfast, and his North Korean adventure.
The result is The Wall; the story of Yung Hee, played by Yuna Shin (All that Remains), a young female poet living under North Korea's regime that's told through a mix of live action and animation.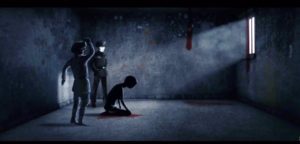 WINNER BEST HUMAN RIGHTS FEATURE – Galway Film Festival
"Director turns agitprop into Kim regime exposé" – UK Times
"…a multicultural production, shot in North Korea and Belfast, with Norwegian animation and a script penned in Amsterdam by Klaas Bense. This diversity is apt considering the nature of the story, a globe-trotting comparison piece that serves to highlight the universal nature of human experience in spite of cultural and political differences" – Film Ireland
90 minutes on 1 disc / 2016 / Color / Live action & Animation / Korean and English w/English sub-titles / A film by David Kinsella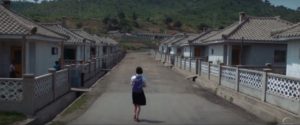 HOW TO ORDER:
Public Performance and Digital Site Licenses are available through Soundview Media Partners. To inquire or to place an order, write to info@soundviewmediapartners.com or simply choose from the options below:
For group screening prices, please inquire.
Personal use copies of the DVD are available on Amazon: https://amzn.to/2I8Fety
WATCH THE TRAILER