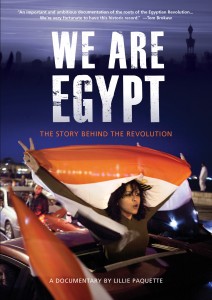 "Long before anyone was paying attention, Lillie Paquette was listening." – CBC
"An important and ambitious documentation of the roots of the Egyptian revolution. We're very fortunate to have this historic record." – Tom Brokaw
Months before 2011's momentous uprising in Egypt many talked of a revolution – but no one knew when that day would come. Going behind the headlines, WE ARE EGYPT – filmed in the 14 months leading up to the Revolution – highlights the years of mounting resentment against the ruling regime.
Deeply embedded inside the turmoil, filmmaker Lillie Paquette followed key opposition figures and young democracy activists as they struggled against extraordinary odds and at great personal risk to remove an uncompromising U.S. -backed authoritarian regime determined to stay in power.
The DVD includes 82 minutes of bonus features including Memories of Egypt's 1952 Revolution with Omar Sharif, Inside Mubarak's NDP Headquarters with Ali Eldin Hilal, Noam Chomsky on US foreign policy in Egypt, democracy activists Esraa Abdel Fattah and Basem Fathy after the Revolution, as well as segments featuring Michele Dunne of the Carnegie Endowment and Laith Kubba of the National Endowment for Democracy.
"We Are Egypt is a film about the soul of a long suffering country yearning to throw off the yoke of an aging autocrat and take its place among democratic nations." – Professor Tarek Masoud, Harvard University
3.5 Stars: "Better than most news agencies did, an embedded filmmaker here explains the players and issues involved in the climactic "Arab Spring" Egyptian uprising in early 2011, which overthrew the long-entrenched National Democratic Party (NDP) and government of Hosni Mubarak. HIGHLY RECOMMENDED" – Video Librarian
85 mins + bonus on 1 disc
HOW TO ORDER:
Public Performance and Digital Site Licenses are available exclusively through Soundview Media Partners. To inquire or to place an order, write to info@soundviewmediapartners.com or select from the License Options listed below:
For group screening prices, please inquire info@soundviewmediapartners.com
In-home/personal use copies are available on Amazon: http://amzn.to/Wt0OuM where is it also available to stream/download http://amzn.to/1ZgefxO. Or, view it on Vimeo below…
Watch the Trailer

Perfect for Middle East Studies