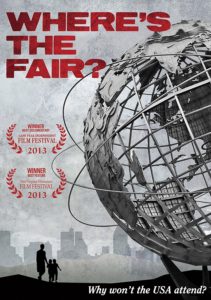 Where's the Fair? is a film about mankind and America's systematic policy decisions that result in the continued isolation of a world power from the rest of the planet.  It is a political and historical analysis that uses the grandness of planetary celebration of art, science, music, technology and more to  drive its point home.
"…if you're an American, or have any pride in the United States of America, this documentary will piss you off." – Film Threat
The simple question, 'What happened to America's participation in the World's Fair?' launches a conspiratorial journey that uncovers the sordid past, present, and future of the United States' role in the largest global event in human history.
WINNER! West Virginia Filmmakers Film Festival, Best Feature Documentary
WINNER: Documentary Features, Knoxville Film Festival
WINNER! Minneapolis Underground Film Festival, Best Documentary
WINNER! Cape Fear Independent Film Festival, Best Documentary
It inspired a nation, and introduced the technological wonders that would transform the lives of generations of Americans. For more than a century, the World's Fair was a fixture of American culture. It ushered in the industrial revolution and brought the most exotic corners of the world together in a peaceful celebration of how we are the same, and how we are different. It was an event with scale and grandeur unequaled in American history.
And then it disappeared…or did it?
In 2008 a chance series of events rekindled the magic of the World's Fair and launched one man on a journey of personal discovery. Where's the Fair? is the story of that journey, and exploration of the extinction of an American cultural icon.
Where's the Fair? is the unraveling of a great American tragedy. It is the story of the loss of not only the world's greatest celebration of culture, art, and science, but also of American exceptionalism, and perhaps even the American dream.
However, Where's the Fair? is not a history film. It is a raw, critical, contemporary exploration of the policy decisions that continue to isolate and disconnect the United States from the international community. It is the story of what happens when a nation stops dreaming.
It is a surprising answer that you find when you ask…Where's the Fair?
84 minutes on 1 disc / A film by Jeffrey Ford
HOW TO ORDER:
Public Performance and Digital Site Licenses are available through Soundview Media Partners. To inquire or to place an order, write to info@soundviewmediapartners.com or simply choose from the options below:
For group screening prices, please inquire.
In-home/personal use copies are available on Amazon: http://amzn.to/2hlctzy
Watch the trailer