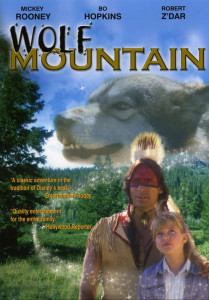 "A classic adventure in the tradition of Disney's best." -Entertainment Today
Wolf Mountain is part of the acclaimed Family Outdoor Adventure series as developed by Entertainment Programs, Inc.
Two outlandish outlaws grab a getaway car to escape pursuing police, only to discover they've jumped out of the frying pan and into the fire! Unnoticed by the fleeing cons, and hidden in the back seat, are three resourceful kids – Casey, John and Kerry – each one a bundle of 11-year-old mischief and energy! The crazy crooks decide to leave the kids deep in the woods of WOLF MOUNTAIN. But that's when the adventure really begins. There, according to Indian legend, exists a "wolf spirit" who brings secret powers to those who follow the trail of honor and justice.
The film features Music Video from "Fresh"
Starring Mickey Rooney, Bo Hopkins, Robert Z'Dar, David Fralick, Vivian Schilling and Nicole Lund.
Rated PG
Buy it on Amazon: http://amzn.to/13crr9R