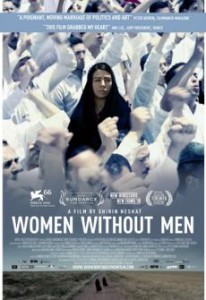 "…a powerful and disturbing drama about self-empowerment that transcends borders. Highly recommended" – Video Librarian
Women Without Men, an adaptation of Shahrnush Parsipur's magic realist novel of the same name, is Iranian artist Shirin Neshat's first feature length film.
The story chronicles the intertwining lives of four Iranian women during the summer of 1953; a cataclysmic moment in Iranian history when an American led, British backed coup d'état brought down the democratically elected Prime Minister, Mohammad Mossadegh, and reinstalled the Shah to power.