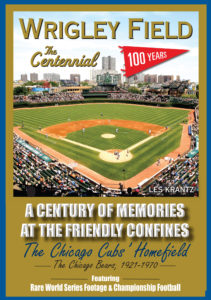 No history of Chicago can be told without chapters devoted to Wrigley Field and the home of the The Cubs.
Celebrating 100 years of baseball at Wrigley Field, the film details the impact of a team and its famed stadium on a city and includes footage from every Cub World Series ever played to today's Cubs and their modern play.
Wrigley's first 100 years-from the origins of the ivy, to a century of fans, to the "big moments" on the field including Babe Ruth's "called shot" in '32, and the Sosa-McGwire home-run duel to today's Cub stars.
The film includes interviews with Ernie Banks, Ron Santo, Billy Williams, Ryne Sandberg, Greg Maddux, & Harry Caray. Rare, historic footage, beautifully documented and narrated by Lou Boudreau Jr. & Ron Santo Jr.
"Well-researched and extremely entertaining, this is highly recommended" – Video Librarian
2013 / 44 minutes / Color and Black & White / A film by Les Krantz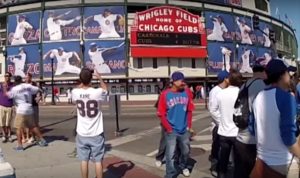 HOW TO ORDER:
Public Performance and Digital Site Licenses are available through Soundview Media Partners. To inquire or to place an order, write to info@soundviewmediapartners.com or simply choose from the options below:
For group screening prices, please inquire.
In-home/personal use copies are available on Amazon: https://amzn.to/2xlH6Kz
WATCH THE TRAILER