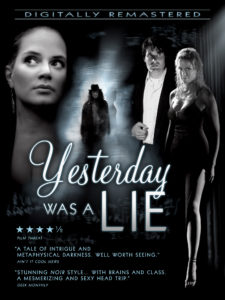 The most powerful force in the universe lies within the depths of the human heart.
"****1/2 Stars" – Film Threat
A groundbreaking metaphysical noir film from writer/director James Kerwin, YESTERDAY WAS A LIE combines "stunning black-and-white cinematography, a sultry jazz score and a refreshingly high-minded script" – Variety.
Produced by a non-profit arts foundation (Helicon Arts Cooperative) and released 10 years ago, YESTERDAY WAS A LIE (now remastered by the Director) has gone on to receive over a dozen film festival Best Feature awards and critical praise.
Kipleigh Brown "exudes Bacall" (Slice of SciFi) as Hoyle, a girl with a sharp mind and a weakness for bourbon who finds herself on the trail of a reclusive genius (John Newton). But her work takes a series of unforeseen twists as events around her grow increasingly fragmented… disconnected… and surreal.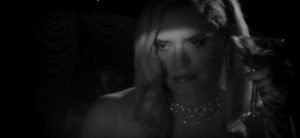 With a sexy lounge singer played by Chase Masterson (who also Produced the film) and a loyal partner Mik Scriba as her only allies, Hoyle is plunged into a dark world of intrigue and earth-shattering cosmological secrets. Haunted by an ever-present shadow (Peter Mayhew) whom she is destined to face, Hoyle discovers that the most powerful force in the universe- the power to bend reality, the power to know the truth- lies within the depths of the human heart.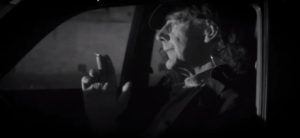 WINNER, GOLDEN PALM AWARD, Mexico International Film Festival
WINNER, BEST OF SHOW, Accolade Film Awards
WINNER, BEST FEATURE, Foursite Film Festival
WINNER, BEST NARRATIVE FEATURE, Sunscreen Film Festival
WINNER, BEST FEATURE, Helicon Arts Cooperative
WINNER, BEST FEATURE PRODUCER, LA Femme International Film Festival
WINNER, BEST IMPACT OF MUSIC IN A FEATURE FILM, Park City Film Music Festival
"This ambitious film is a stunner, nothing less than the arrival of a major filmmaker"  – KGO Radio / Flick Nation.
Also starring Nathan Mobley, Warren Davis, Megan Henning, Jennifer Slimko, and famed radio personality Robert Siegel.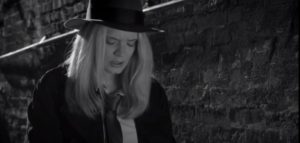 "Donnie Darko meets film noir, with a heavy dash of Lost, Kiss Me Deadly, and pretty much anything from David Lynch. A cult gem waiting to be found." – IGN
"Kerwin bravely mashes up genre conventions and styles to create his unique vision — imagine mixing The Big Sleep with The Matrix. Thoughtfully produced and long on visual style." – Film Edge
"A cinematic masterpiece." – Just Press Play
Mark Wingfield of HK Film News sums it up nicely with "Any modern movie that's shot in moody, darkly expressive black and white is already after my own heart, and if it's a smoky noir liberally interwoven with elements of sci-fi, weird fantasy, mind-bending metaphysics, and melancholy romance, then it really stokes my desire to come up with lots of colorful adjectives to describe it.  Writer-director James Kerwin ("Star Trek Continues") has created just such a cinematic novelty piece in the languidly compelling YESTERDAY WAS A LIE (2009), now celebrating its ten-year anniversary with a digitally remastered Blu-ray release from Indiepix…. YESTERDAY WAS A LIE is painstakingly crafted, seemingly with the same loving care that David Lynch lavished on "Eraserhead" and with much the same stunning visual impact and cerebral engagement.  And although the knotty plot never quite untangles itself before the fadeout, we're left pleasantly pondering the mysteries of the universe while still buzzing on that beautiful black and white fever dream in which we've just been immersed."
2009 / 89 minutes / Black & White / English / Rated PG by MPAA / A film by James Kerwin
HOW TO ORDER:
Public Performance and Digital Site Licenses are available through Soundview Media Partners. To inquire or to place an order, write to info@soundviewmediapartners.com or simply choose from the options below:
For group screening prices, please inquire.
In-home/personal use copies are available on Amazon: Bluray https://amzn.to/2MK2SRw or DVD https://amzn.to/2MMJweL. Also avail digitally to stream: https://amzn.to/2rCmy1b
WATCH THE TRAILER