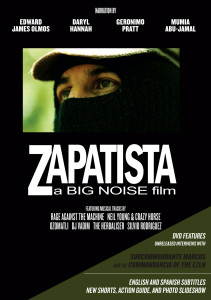 The definitive look at the Zapatista uprising, its historical roots and its lessons for the present and the future.
January 1, 1994. The day the North American Free Trade Agreement (NAFTA) came into effect. A few minutes after midnight in Southeastern Mexico, several thousand Mayan soldiers took over half the state of Chiapas, declaring a war against the global corporate power they believed ruled Mexico. They call themselves the Zapatista National Liberation Army (EZLN).
Zapatista is the definitive look at the uprising in Chiapas. It is the story of a Mayan peasant rebellion armed with sticks and their word against a first world military. It is the story of a global movement that fought 175,000 federal troops to a stand still and transformed Mexican and international political culture forever.
Narration by: Mumia Abu-Jamal, Darryl Hannah, Edward James Olmos and Geronimo Pratt.
Featuring interviews with: Subcomandante Marcos, Noam Chomsky, Comandante Tacho, David and Zebedeo, Mayor Insurgente Ana Maria, Javier Elorriaga, Zach de la Rocha and more.
Music by Rage Against the Machine.
"There's a fascinating and important story here – the struggle of the exploited, betrayed and oppressed Chiapas Indians against a corrupt Mexican government quick to use military force to protect its relationship with international capitalist conglomerates" – Time Out NY
Special features include complete interviews with Subcomandante Marcos and Noam Chomsky, additional video shorts, action guide and photo slideshow.
60 minutes on 1 disc / English and Spanish with English subtitles.
HOW TO ORDER:
In-home/personal use copies are available on Amazon: http://amzn.to/22gDF0q
Public Performance and Digital Site Licenses are available exclusively through Soundview Media Partners. To inquire or to place an order, write to info@soundviewmediapartners.com or choose from the License Options listed below:
For group screening prices, please inquire.
Watch some of the footage https://youtu.be/4GE4svPVhsw